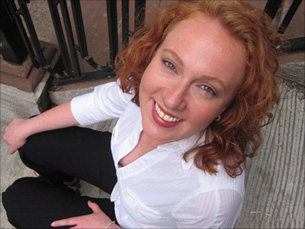 Making this film has been an amazing adventure: building a bridge between past that I remember and the present that is still evolving.
IRINA VODAR
PRODUCER
Irina Vodar pursued a Bachelor's Degree in Producing for Motion Picture and TV at the Russian State Film School (VGIK) in Moscow, Russia, and received her diploma in 1990. She continued her film studies at the Film Department of Columbia College, Chicago, IL, where she had initiated the student exchange program between Russian and American Film Schools.
A New York City resident since 1997, Irina Vodar had joined the ranks of ABC NEWS bureau in NYC. She contributes to daily news, TV magazines, Special Reports and Entertainment Programming produced at the Network headquarters in New York. For her efforts she has been nominated and presented with many awards, including International Monitor Award (1999), the Peabody Award (2002) for 9-11 coverage, a 30th Annual Daytime EMMY Award nomination (2003), International Telly Award, 1st Prize and BDA Design Awards (2004).
Irina Vodar returns to film producing with her full-length documentary title Miss GULAG.