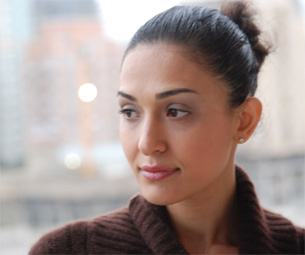 While we were filming the beauty contest at UF 91/9 I started to feel overwhelmed, so I stepped out of the auditorium to catch my breath for a moment. Right then, I ran into "the General" who was in charge and he invited me into his office for a cigarette. There commenced what can only be described as a gentle interrogation. One of my favorite questions was "Maria, do you love Russia?" - to which I replied, "Do you think I would be making this film if I didn't?" After that, I tried to ask that question of everyone I interviewed.
MARIA YATSKOVA
DIRECTOR
Maria Yatskova was born in Moscow in 1976 and immigrated to the United States with her mother and grandmother five years later. She studied journalism in France and Belgium and film at the New School for Social Research in New York. Maria's engagement with Russian history began with her feature essay for the Associated Press surrounding the controversial remains of Russia's last Czar, which appeared in the LA Times.
More recently, her article about prison camp UF 91/9 in Siberia, titled "Crime and Beauty," appeared in the September 2006 issue of Marie-Claire magazine. The piece provided part of the vision behind her directorial debut, Miss GULAG, an official selection of the 57th International Berlin Film Festival.